Kids Safety Anti Abduction Training Event - 2018 Training Event
October 13th, 2018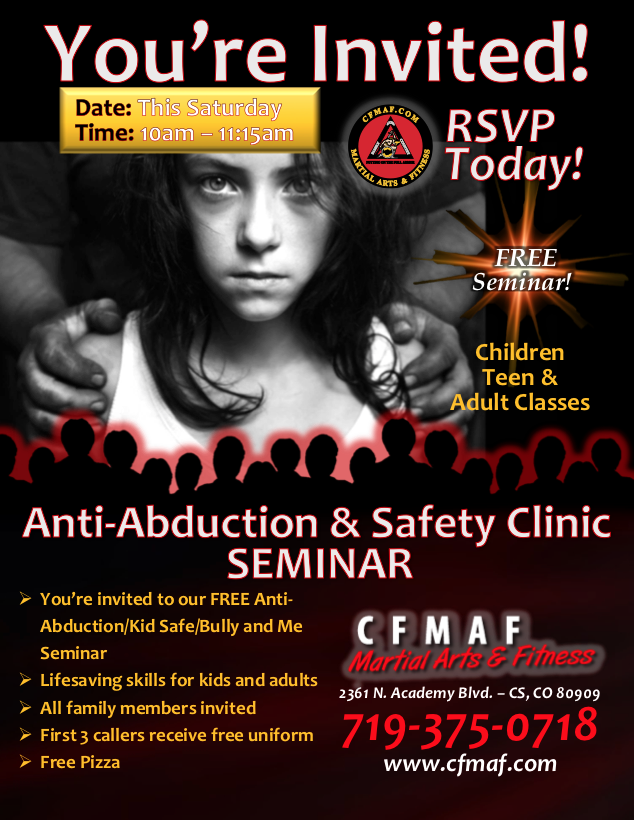 Due to the high demand of our "Kids/Family Safety Anti Abduction" training event that was held on October 6th, we are hosting it again!! Just like the October 6th event this will be full so rsvp now.

As always, this event is packed with parents such as yourself along with your children to learn and practice these valuable skills. A child will only remember these skills if a parent practices with the child. We know this, so for that reason, we constructed this event where the parents and the children learn and practice together. Don't worry. If you have a physical ailment that does not allow for you to participate with your child, one of our students will be available to stand in for you.


What are parents saying about this event?
1. This is needed for everyone to attend
2. My kid's and I love it.
3. No one should pass this up. We can't wait to learn more.
You can learn more right now by completing this form to rsvp for our October 13th Anti Abduction Free Training event.
This event has proven to be very informative, interactive, and fun. When it is over, stay and enjoy pizza and drinks with families just like yours who are concerned about the safety of their children.
If possible, we ask that both parents attend. Why? History has shown that is very difficult for one parent to pass on the information and the techniques shown to the parent that is not present. Plus, we will have some special information for you that can only be taken advantage of when both parents are available (in person or over the phone, unless you are in a single parent household).
Event Registration: